Limit 1 per customer/household of each edition type
One of the most beloved children's stories of the 20th century, Charlie and the Chocolate Factory by Roald Dahl is a masterpiece of pure imagination.

Willy Wonka's famous chocolate factory is opening at last! But only five lucky children will be allowed inside. And the winners are: Augustus Gloop, an enormously fat boy whose hobby is eating; Veruca Salt, a spoiled-rotten brat whose parents are wrapped around her little finger; Violet Beauregarde, a dim-witted gum-chewer with the fastest jaws around; Mike Teavee, a toy pistol-toting gangster-in-training who is obsessed with television; and Charlie Bucket, our hero, a boy who is honest and kind, brave and true, and good and ready for the wildest time of his life!

First published in 1964, the dark humor and cheerful gruesomeness of Charlie and the Chocolate Factory immediately endeared the book to children, making it an instant bestseller. Rarely has a tale of morality ever been more deliciously entertaining to read, as Roald Dahl's story warns children and adults alike of the dangers of bad parenting, spoiling children, and self-indulgence.


Dahl drew inspiration for the story from his own childhood. In the 1920s, chocolate makers in England would frequently send samples to school children in exchange for their opinions on new products. Two of the largest competing chocolate companies, Cadbury and Rowntree, would send spies posing as employees to discover the other's trade secrets. As a result, the companies became highly protective of their chocolate making process. It was a combination of this secrecy and the elaborate, often gigantic, machines in the factory that inspired the author to write his story.

Roald Dahl's classic tale has been adapted into two major motion pictures, Willy Wonka & The Chocolate Factory (1971) and Charlie and the Chocolate Factory (2005). In 1971, Dahl wrote a sequel, Charlie and the Great Glass Elevator, published in 1972.

ABOUT THE EDITIONS
The limited edition of Charlie and the Chocolate Factory by Roald Dahl is presented in four states: Artist, Numbered, Lettered and Roman Numeral. The editions are oversized at 7" x 10" and feature over 50 color illustrations by Quentin Blake; a new exclusive introduction by Donald Sturrock, author of the critically acclaimed biography of Roald Dahl; and over 60 pages of bonus content. Also included is a note by Paul Suntup. All editions are printed full color throughout.

The Numbered, Lettered and Roman Numeral editions are printed letterpress with a spot color throughout, and the color illustrations are printed offset. The letterpress editions are signed by Donald Sturrock and Paul Suntup. The Artist edition is printed offset and is signed by Sue Gent, who created the slipcase illustration.




ARTIST EDITION
The Artist edition is limited to 1250 copies. It is a full cloth, smyth sewn binding with an embossed cover. Printed offset on archival Cougar Natural, the Artist edition features a foil stamped dust jacket resembling a Wonka's Whipple-Scrumptious Fudgemallow Delight candy bar wrapper (the only edition featuring the dust jacket). It is housed in an illustrated paper covered slipcase, featuring wraparound artwork by Sue Gent. The edition is signed by Sue Gent.
NUMBERED EDITION
The Numbered edition is limited to 350 copies and is a full leather handmade Bradel binding with gold leather adorning the spine and brown leather boards with a debossed front cover. The edition is printed letterpress on Mohawk Via with a spot color throughout. The color illustrations are printed offset. The edition is housed in a gate fold clamshell enclosure covered in Japanese cloth and lined with suede. The edition is signed by Donald Sturrock and Paul Suntup.
WONKA BUNDLE INFORMATION

Charlie and the Chocolate Factory by Roald Dahl Artist Edition
1 Surprise Sold Out Suntup Artist Edition from the Following Titles: The Exorcist, Jaws, Red Dragon, The Auctioneer, I Am Legend, Imajica, Stranger in a Strange Land, Guests or The Island of Doctor Moreau
2 Surprise Forthcoming Dark Regions Press Deluxe Signed Lettered Hardcovers at 50% Off Retail Price
$50 Dark Regions Press Gift Card 

GOLDEN TICKET CONTEST
Over $25,000 in prizes including a Roman Numeral Edition!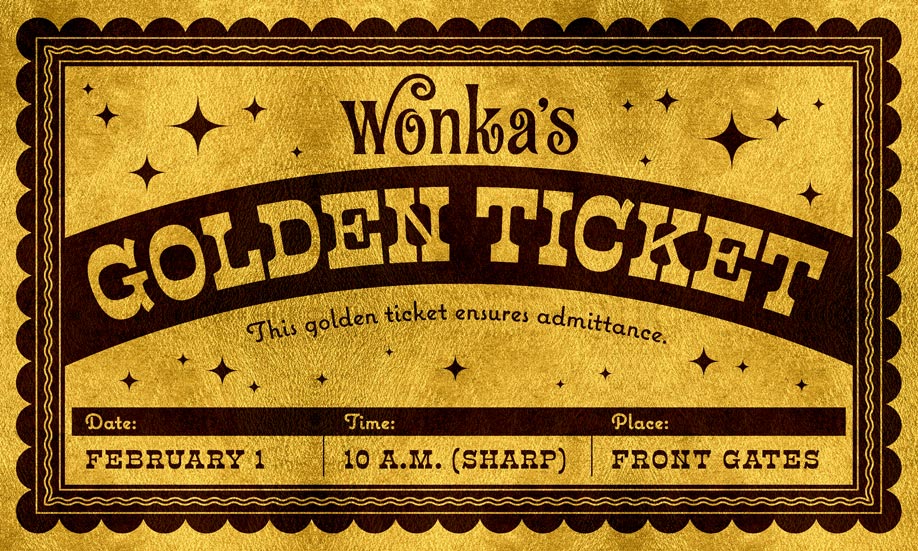 Distributed randomly in all editions of Charlie and the Chocolate Factory are 25 Golden Tickets! Each ticket features a unique number from 1 to 25, and depending on which numbered ticket you have, you will win one of the following prizes:
Ticket Number
Prize
Value
1
Roman Numeral edition of

 

Charlie and the Chocolate Factory
$14,500
2
Lettered edition of

 

Charlie and the Chocolate Factory
$5,500
3-5
Numbered edition of

 

Charlie and the Chocolate Factory
$2,850
6-10
Artist edition of

 

Charlie and the Chocolate Factory
$925
11
$1000 Suntup Editions Gift Card
$1,000
12-15
$200 Suntup Editions Gift Card
$800
16-20
$100 Suntup Editions Gift Card
$500
21-25
$50 Suntup Editions Gift Card
$250
Product Info: shipping now, published by Suntup Editions, Wonka Bundle contents ship when all items are in stock including gift card unless separate shipping arrangements are made with the customer